Hey guys 😀
A new corner to this blog: Game of the week.
We visit a free / open source game you didn't know existed, and we give you the download link to it !!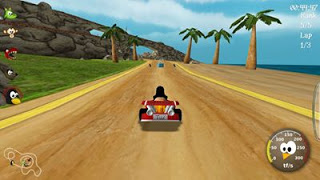 Today's game is a twist on the Mario cart series , Tux cart 0.8Tux is Linux's mascot and he can be found in many open source games , this racer features him and many other mascots from softwares and operating systems !
Impression
the game is really fun , it's professionally built and it has many aspects to be admired , unlike some other free games who lack this direction , it has a sweet sound track and a add-on feature allowing you to download extra tracks and other fun things
License : Free – Open source
Size : 141 MB
Os: Windows (XP – 7 – 8)
You can download it from here, click for the download to start.
Check out the awesome gameplay video Note: Site views reach a special number 11111, thank you all.

Please subscribe to my feeds and follow the blog itself, and comment as often as possible, you don't even have to Login to anything, i made it possible for anonymous people to comment on my blog, you are welcome anytime, and don't forget to recommend me on Google+
Have a nice day 😀