Looking at the status bar at my blog I realized that I have reached 150 thousand views, and you might have noticed that
I didn't post a status update like this in a while
. I decided to celebrate the bigger milestones, as they began to happen more often (thankfully).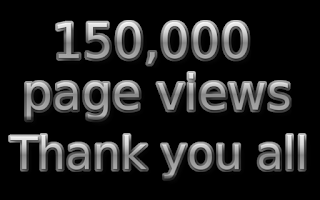 150K banner made in Gimp
Passport rush!
Over the last few months my blog attracted thousands of Libyan readers trying desperately to reserve an appointment to take the passport photo, my blog views spike on Thursdays (as it's the only day the reservation system is open on), so in sense these people aren't here for my blog, they think it's associated with the passports somehow and most of the comments are questions that I shouldn't be getting! The people who actually work for the overmanning and get paid for it should be asked these questions!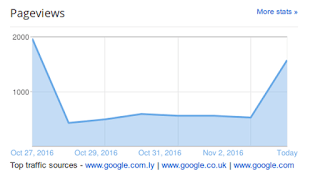 The polar ends are Thursdays!
Welcome in!
Well you know the old saying: All publicity is good publicity and as long as my blog is out there and getting views, I should be happy! Even when I know for sure that these lurkers don't care for my blog or what I post, they just want a passport.
Maybe what I wanted is for people to come to my blog for the things I'm passionate about and actually enjoy, like open source, Linux, and video games! We'll get to that sometime I hope!
Posting less, meaning more
I've also managed to pace myself, I try to post at least once a week, I realize now that blogging has more work to it than creating posts, right now my goal is to finish all the drafts I have on before the end of the year (hopefully).
Social media interactions
I've also reached 22,000 twitter followers thanks to my follow back system, I'm not even trying that hard to get fans, but I guess it's my thing now and it's far too late for me to go back.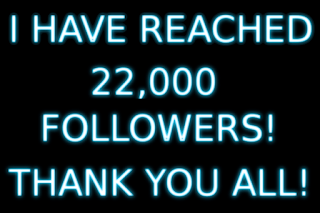 As I use Twitter as my main platform to connect with readers and promote my blog it's important for me that my account is synced with a good followback ratio and to have some fresh accounts following every now and then.
Got retweeted by OpenDocument

I also gained some valuable input from the open source community on two of my recent posts about LiberOffice, plus a few retweets!

Got retweeted by LibreOffice
Final words
Thank you all for being a part of this journey, and I hope to keep your trust and support. I'll see you soon in another site update.
Please share this post and help my blog grow!