Hey guys.
I hope you are having an awesome day =)

Today I'm looking at RedNotebook 1.10.1 which is the latest version of the cross-platform diary and journal .
The latest version brings many improvements and bug fixes. Feel free to check those in detail from RedNotebook's website under the section news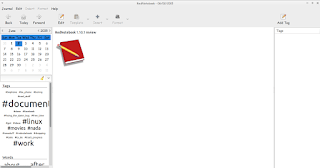 I haven't tried any version since the 1.5.0 which I reviewed in this post and I had a brief run with version 1.8.0 which failed on Ubuntu 13.04 for some reason. So it's kind of a big jump for me.
I'm pleasantly surprised to see you can tag notes by simply using a hashtag "#" become a tag you can search and access all the notes tagged with #RedNotebook for example.
Also clicking the last day of a past month doesn't crash the program losing all the notes you entered in that session! Ouch!!
The program is coming together nicely and it became irreplaceable to me!
If you haven't downloaded and installed it yet I urge you to download it from the developer site. It's definitely worth your time! !
And while you at it you have a look at my backup and restore guide. It's a must have for RedNotebook users..!
I hope you liked this post, please comment below and let me know what's on your mind!