Ubuntu has been teasing a marketing campaign under the logo Reinvent, people have been speculating for days on what could it mean? Now we know there is a Tablet in the works, and it's out very soon!
The tablet is made by Spanish carrier BQ much like Ubuntu Phone, BQ Aquaris M10 will be available all over Europe directly from the manufacturer, unlike Ubuntu phone which was sold in flash sales..
The specifications of the Tablet are the following
10.1 inch display.
16GB internal memory plus MicroSD slot
Full HD video camera
2GB RAM
8 megapixel rear camera with autofocus and 5 megapixel front camera
Frontal speakers
Micro HDMI slot
Dimensions: 246 x 171 x 8.2mm
Lightweight at only 470g
Convergence
One of the killer features of this Tablet is convergence, the ability to turn it into a PC once connected to a wireless mouse and Keyboard, with the ability to work on the tablet at the same time for true multi-tasking!
This also means that the apps developed for the tablet are the same as the desktop.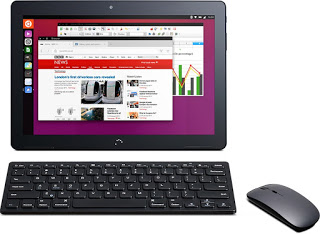 Ubuntu Scops
It's a new concept that allows you to get services without downloading apps on your tablet.
Final word
The Ubuntu tablet could be a true game changer, being the first ever to run the open source OS, with nice specifications and convergence, could it break into the mainstream market and attract attention outside the open source world? Only time will tell!