Wodan the Trail is a turn based strategy game made by the German developer Stammel. It's set in a fantasy setting and utilizes elements of land control and siege. The game is for  ( 2 – 8 ) players.
This is the second turn based strategy game I've reviewed, checkout
Wesnoth
as well.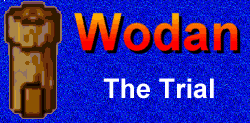 Why now?
The game's latest version was 0.7 released back in 2006. It stayed like that so long that everybody – myself included – thought it was an abandoned project. But when I visited the page (out of curiosity) I was redirected to a new domain and noticed that a new version of the game was out!
I've written to the developer asking for a change log and if the game has a future release planned, and the answer to both questions was: Nien! (No in German in case you don't know what that means..)
Change log for V 0.8
I've decided to write down the changes that I've noticed, if any of the readers has a change that I've missed please let me know.
1. The frost theme removed.
In version 0.7 you could swap your soldiers for snow men, which change according to which level you choose to equip. This now is removed from version 0.8 alongside the ability to add custom sprites for your soldiers.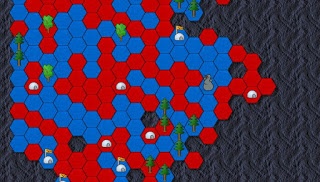 2. Bilingual option added.
You can choose to play the game either in German or English. Same goes for the website, it's available in two languages.
3. Story and help are removed in this version
In version 0.7 there was a help file attached that explains game play and tells the game's story. In the latest version these can be found easily on the website (
sadly the website itself doesn't exist
). If you download my new file you'll find the help file attached to the game binary.
4. Soldier animations added
Now you can see the soldiers that didn't move this turn waving their arms on the map, that helps you tell which ones moved this turn and which ones didn't. It's pretty useful actually.
5. Soldiers and map in general look much bigger compared to V 0.7
The map and elements look far bigger in full screen mode than the previous version.
Combined with animations, it makes the game much more playable than version 0.7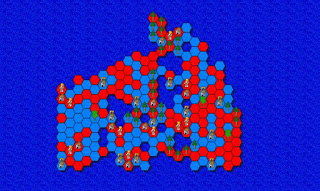 Map from version 0.7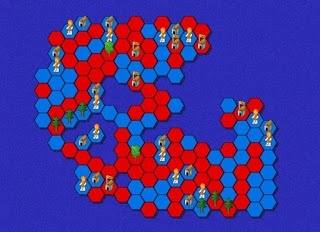 Map from version 0.8
6. The sea looks different
The sea looks more "plain" compared to the previous version (can be seen in the screenshots above).
7. The game is packaged as one .exe file
Version 0.7 came in a zip file which had the game itself and files (help and theme packs). This version however is just a single file.
Game play
You and the players take turns placing soldiers on the map and taking control over land. You must control enough land to pay for your soldiers or they die (
a little dramatic, don't you think?
). The winning player is the one who controls more land.
Game pros
Very small in size (less than 1 MB). Very easy to download.
Doesn't need high system requirements.
Free to download.
Fun and addictive.
This game is a fun little strategic game if you don't have the time or resources to jump into a vast world like Wesnoth. Or for playing against the computer or a friend for people short on resources or who simply love the retro style of games.
It would be a nice addition to your local game library.
Game cons
Very irregular development cycle, a minor upgrade took 12 years to be made!
Gets stale fast.
Sound effects are very silly and cartoon like (can be disabled).
Menu popups whenever you do a move are annoying (can be disabled).
Even tho the language is English, some menus and controls are in German! (Not corrected from V 0.7).
Impression
My impression that this version is still a work in progress. Some menus aren't displaying correctly and the bilingual option isn't correct yet. If I were the developer; I'd release an update to patch these bugs.  In all fairness I only tried it using Wine, maybe a native experience would be different.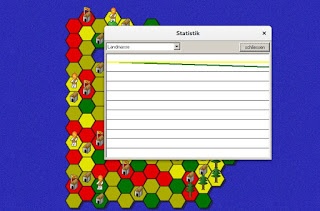 Statistics menu in German even tho the language is set to English
Also the about dialog looks missing, because it's actually missing if you compare it to V 0.7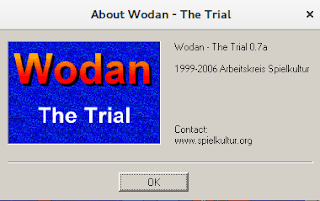 About dialog from version 0.7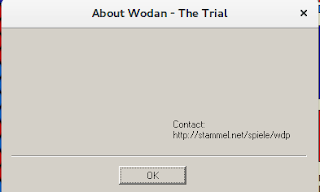 About dialog from version 0.8
To download the latest version 0.8, please click here.
The game is dead!
As per an email I received from the developer saying that the game "is not under active development".  I wouldn't expect new versions any time soon.
Legacy download 0.7
If you are still interested in playing Wodan – The Trial V 0.7 then it's tough luck. It's been removed from the developer's website and expunged from the web archive! Luckily I still have a copy of it and I've uploaded it here for anyone interested.
What do you think of this game? Do you like these niche games? Let me know what you think in the comments section below.
Download the latest version
I've uploaded it myself since the website no longer exists. Feel free download it from here.