I know, I know! I've said that I am on hiatus and that I won't blog until further notice (still displaced by the way, thanks for asking!). But this is too much of an update to pass! Half a million views on my personal blog.
Steps building up to this moment
I've always celebrated these milestones on my blog.
The now and then
Wow, to think that my blog (in all of it's iterations and different directions) was viewed half a million times. That's unthinkable and out worldly. Not even in my wildest dreams have I thought such thing was possible. Yet it is.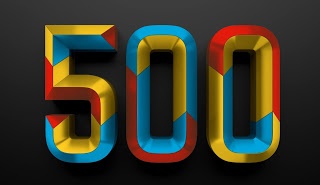 Things aren't exactly what they seem
I've learned that Blogger's stats aren't the most accurate. Some would go as far as saying that they aren't a reliable way to track views of your blog. A sudden realization, yet an enlightening one.  I'll take them for what they are, with a grain of salt.
How was this supposed to be?
I had some great ideas. To have a give away to increase my reach and fan base. It was going to be big. Sadly with
everything I'm dealing with in my life
. I couldn't bring myself to follow through with these plans. Things have been overwhelming for a while now.
A change of pace
Effective immediately, the stat widget is no longer displayed on my blog. I won't talk about any further stat related milestones (well maybe the 1 million mark would be worth celebrating). This is the day I say goodbye to the numbers. Did they ever matter?
Thank you for reading this update and being a part of my blogging journey.