This is a game that I discovered very recently (despite it being released over 6 years ago) and by pure coincidence. An action fighting game that is a twist of the "Super Smash Bros" series of games.
The goal is very simple: Knock your foes off the platform 3 times to win.
Important notice
My review is kept strictly to the offline 3.20 version. I didn't play online against real people or entered contests. I think you need to add it to your steam library to do that, and since this is a side-loaded game. Those features are not available.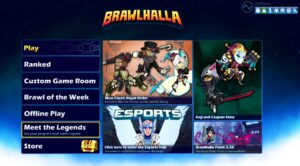 1. Has an immediate pick up and play appeal. No complex story or learning needed. I didn't play a whole lot of it but I immediately grasped the basics, and the rest is sure to follow!
2. A colorful roaster of characters. With a lot of customization options. Some are from fantasy tropes like Ogres, so if you played other games like Wesnoth. You'll feel right at home with this one. With nearly 40 characters to choose from, each with their own stats and special weapons.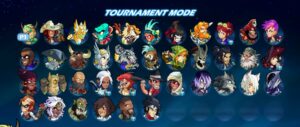 3. Good looking graphics and animations.
4. The game has a huge following online and recently reached 40 million active players online according to Brawlhalla's own post on their blog.
5. Download size is small (sadly this still matters here in 2020, sigh..). 255 Mbs to be exact.
6. Free to play. That's the coolest part.
This version is for Windows only. It could be played on Wine for Linux systems but native game play is always better.
Download
The game can be downloaded from this link. It's compressed as a .7z for optimal compression. Most archiving software should be able to extract it. But if you face any problems, download 7zip from this link.
Final words
This was the latest installment of Game of the Week. Hopefully you enjoyed this bit. Let me know what do you think in the comments section below, and I'll catch you in the next one.