Have you ever had the problem of wanting to work but simply being to lazy to start , well this little software will make that star easy for you.
Instant Boss will time your work/break cycles, reminding you when to work and when to take a break.
The defaults are 10 minutes of work, 2 minutes of break, and this is repeated 5 times for a total of 1 hour.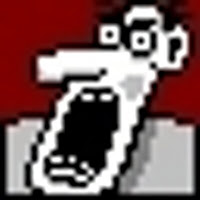 These values can be changed to suit your needs. Instant Boss will remember the values you used during your last session.
This software completes my previous post , while the first tells you to work , this one regulates your work session .
What do I think ?
Light on memory , gets the job done .
Small in size 257 KB only
It's called pester, this little fellow will make life a living hell for you if you don't do what are you supposed to do , very easy to use , only 263 KB to download, freeware .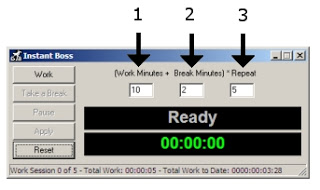 For more information click the link below

It has a very noisy alarm to suggest you to work , so be careful around that 🙂
Please comment below .