Hey there you guys, I hope you are doing great!
It's official! the wait is over!!
Microsoft has announced on it's official website the release date for it's next operating system Windows 10 .
Microsoft has announced that Windows 10 is coming on the
29th of July 2015
. click on the date to see the statement!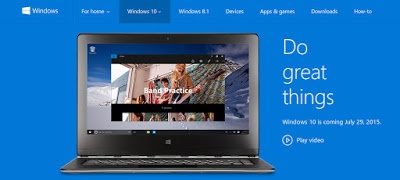 Microsoft has released a statement on it's official website with a promotional video highlighting all the features of Windows 10. The video is inside the page.
Microsoft also stated that if you wanted to get the update for free you need to Buy a qualified new PC. So hurry up to make use of that special sale.
Are you excited hearing about Windows 10? Are you planning to upgrade or do you want to buy a license?
Let me know what you have in mind in the comments section below 🙂