I've come across Zim-Wiki while searching for the best note pad application , in this review I shall talk about why it has become my go to application for almost everything!

A true al l in one solution!
Before installing Zim-w iki I used several software to do a part of the functionality it has!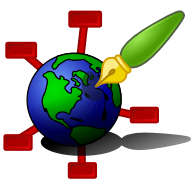 Zim-Wiki logo
I used Rednote book as a daily journal and Tasque to make to do lists while using basket notes as a personal knowledge database! Talk about a cluttered data life!
Now after migrating to Zim- wiki I replaced all o f that software for more versatility, more functionality and more focus!  Which in turn made me a lot more productive! Less resources an d more work done!
Zim -wiki is light weight and cross platform (Windows and Linux). It operates like a wiki so it makes it easy to store and retrieve data and link pages together.
It's simple and easy to use. And the interface is pretty straight forward. And gets the job done.
I also look into the import / export feature as I need to backup and restore data quite often, and without it , it would be useless like Tomboy (now Gnotes).
It is amazing! Just look at t h e plugins like the  box backup. It seems perfect so far.
It has a journal feature, it can log events against days on the calendar, if you like to keep your program count down, it's a good idea to use the embedded journal and abandon other applications. You can access the journal feature by clicking the calendar icon on the right.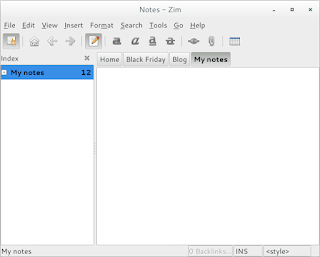 Zim-Wiki interface
Plugins
Zim Desktop wiki is expendable with the use of plugins, you can download and install many plugins from this site,  and access them from the menu :
 
Edit Preferences Plugins
It also supports word count and many other editor features to make the experience complete like the distraction free mode, just hit F11 and enjoy! It can be used to write a book as well, you can make your book the main folder and then distribute it on the pages and link it all together easily!
I did mention that LibreOffice is the best book writing software out there, looking closer at Zim-wiki, LibreOffice won by a nose!
Tags
You can use the tag feature by typing @ before any word, that will be a tag, and it will be displayed in the tag pane , it's used to c ollect and sort da ta and make finding things easier inside notebooks.
Restoring after delete
If you delete a page by mistake you can easily recover it from the recycle bin (or trash, depending on your system).

Check the help embedded for more cool tips on how to use Zim desktop wiki.


Download and install


You can download Zim wiki by visiting the website and downloading a .deb archive to install, or you can add the repository so it grabs updates automatically as a part of the system update.
sudo apt-get add-repository ppa:jaap.karssenberg/
zim
sudo apt-get update 
sudo apt-get install zim
Z i m -wiki as a to do list app
I used to use
Tasque
to handle
my daily tas
ks
but not anymore! Now I enable d the Task list plugin and I was set! It's that good! Enable the plugin by going to:  
E dit Preferences   Plugings Task list
After that you will see the checkbox icon, add the word todo to any line to make it a task, strike it through to mark it done!
If you want to see a checkbox then go to Insert Checkbox list.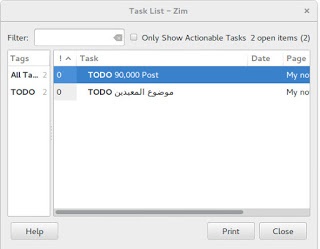 Zim-wiki task list plugin
Zim-wiki as GTD software
Although Zim-Wiki wasn't developed to be a GTD (Getting Things Done) application, it can be edited easily to support the productivity plan, you can find this tut orial on Zi m -wiki's site that tells you ho w to make it.
Markdown e d itor
If you like to use Markdown to style your documents and work then you don't need to look for other tools! Zim-Wiki has you covered with Markdown support!
< " Rati ng

Zim -wiki is awarded 4.95 on the Ubuntu software center receiving tons of positive feedback, so it has to be good! It's also well received on Alternativeto.net
Honorable mentions
In this bit I'll mention some other apps and why I stopped using each of them.
I started with Treepadlite and I didn't like the interface.
I also tried CodeLib which was really good except the random crashes and the heavy memory foot print.
After that I used Tomboy which I really loved excepts the fact it doesn't export notes which made me lose lots of notes. Also it's tricky to figure which GTK library to use with on Window s.
I then adopted BasketNotes. Which was really really good. Except for one thing. It is a K D E application and for that I needed lots of libraries that Xubuntu didn't have, and that made it heavy and prone to crashing.
So I decided to export the notes and find a suitable software for my needs. Here comes Zim-wiki!
What note keeping software so you use? What feature do you prefer the most?
Sharing is caring, share this post with your friends.