It's been sometime since I've posted a game of the week segment! 10 months to be exact!
This time it's a game that I found by accident as I was looking for another game and it turned out much better than the one I was looking for!
Are you interested? Let's get going!
I was looking for a game called Supaplex that was popular on DOS operating system, it's one of the earliest games I played on PC and enjoyed so much, but playing on Dosbox isn't very comfortable.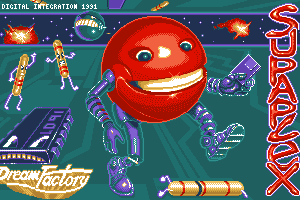 Supaplex
On the other hand, a much better alternative seems to emerge!
The game is called Rocks'n'Diamonds and it's a mixture of Supaplex, Prince, Dig dug, Bombermaan, chip's challenge,  and even fixit Felix (I might blog next about bombermaan so stay tuned).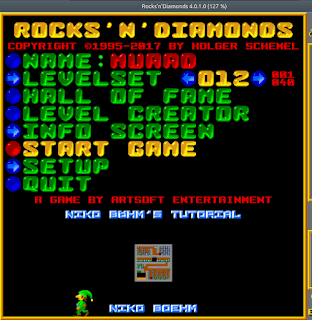 Rocks'n'Diamonds main menu
Info about the game
The game is made by Artsoft Entertainment and it has a rich legacy going back to 1995, the version I downloaded was as recent as October 2017 (Version 4.0.1.0).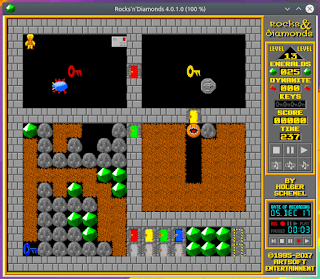 Rocks'n'Diamonds game play
Gameplay
The game is a puzzle game with increasing difficulty and fast paced gameplay,  the soundtrack is catchy and reminds me of the good old days of Sega mega drive games.
Advantages
The game is cross platform, meaning you can enjoy it on any system you have: Linux, Mac, Windows and Android! There is even an "unofficial" port for iOS!
Great soundtrack, as free games usually have generic midi tracks that sounds like 15 seconds of random keyboard keystrokes on repeat, that's not the case here!
Supports controllers and multi players.
Disadvantages
The graphics are true to the retro nature, meaning that anyone who is accustomed to the high end gaming may look down on a game like his, but for a retro gamer (like myself) it's a real treat!
I only tried out the Linux version, and it's only available in tar.gz, no .DEB or a flatpak available, but other than that the game plays easily and without a hitch.
Cheats
What's a great game without cheats? This game allows you to play classical games including Supaplex! So I guess it is an alternative for Supaplex after all! All you have to do is point on level sets and hit enter and choose the game you want to play, and in this case it's supaplex, and several other awesome retro games, feel free to check em out!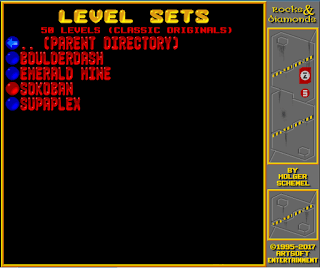 How to add it as a shortcut to plank?
If you are using plank on Ubuntu you know that you can't add executable files right to the doc, you need to add the icon to the program directory and then add the icon to the dock, here is a really simple way to
do it from here. 
It's a tutorial of a different game, but the steps are the same. 
Download
What are you waiting for? Download this game and have an awesome time with it!
For older version of the game click here. 
Did you like this post? Do you have games like this to suggest to me? Feel free to do that in the comment section below, and have a great Wednesday!