Hi, good day to you
There are several ways to install software in Ubuntu, some are easy like the Software Center, and are a bit advanced like Synaptic Package Manager, and you can download a DEB file form the Internet and install it (not recommended)..

But what happens when you want to transfer a lot of software to another computer, or install them on your freshly installed Ubuntu?
You can download them one by one of course :/ but you don't want to do that, don't you?
That's why you are here 😉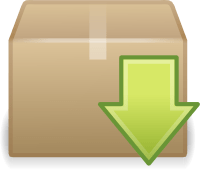 My way is very simple and requires a little knowledge of your system.
First copy the software you need from this directory on your computer:
"/var/cache/apt/archives"
Copy the ones you need or all of them if you like
Paste them in a folder in your system partition (Where Ubuntu is installed), like your home folder.
Now open Synaptic Package Manager and enter your administrator password.
When it loads up navigate to File Add downloaded packages
Browse to the folder Archives you just copied form the old computer
Wait for it to add the packages, and here you have them.
It will install the changes automatically (Batch install your packages).
As easy as that 😀
And the sweet part is: If you previously backed up your computer and restored it after adding the packages you will restore the settings as well 😀
Here you have it 😀 I hope you find this useful 🙂
P.S: I tested it on Zorin OS 7, so it should work on Ubuntu 13.04 with no problem.
If you like it please recommend it on Google + and subscribe to my blog
Have a nice day <3