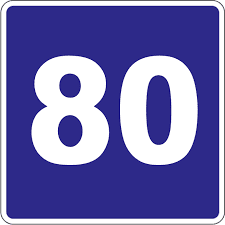 I have reached 80,000 views on my blog, it's a milestone to be celebrated indeed! The result of hard work and dedication, and I can't forget my loyal readers!These last few weeks since I last wrote an update were a true blessing, while I blogged less, I embarked on a soul finding journey beyond the interface of blogger, I am still undecided about posting that kind of posts yet on this blog, I've thought of it, I might pitch a pilot post like that soon, but without feedback, none of that is happening..
Times call for a change
I moved from a 3rd party domain to the Blogspot hosted domain (actually I didn't renew the subscription fee), if you feel like reading the full post, then you are welcomed to check it out from here.
I've lost a great deal of traffic due to this sudden change, but I'm sure I'll be able to win my readers back, after all most of them are from Libya searching franticly for a way to get a passport (pray for Libya please) and I'm sure they will comeback as soon as the reservation site gets back on-line, it's that bad!
As a side effect Linkwithin is acting off, giving me two links instead of one, one for the third party domain that expired recently and the other is for the Blogspot domain.
Since Linkwithin has a really responsive support team (just kidding), I've dropped the idea of using Linkwithin all together, but if you are still into it, check out this post covering a popular fix for the post issue (shameless self promotion at it's best!!).
Blog improvements
During this time I decided to take a "real" look on my blog, and I found some really bad posts, I mean REALLY bad (I'm my own worst critic), so I went happy with the delete button.The total post number went down from 410 to 288, that's in case you noticed, and in case you didn't, there you go!
Deleting that huge number of posts left "dead links" all over the blog! Since I tend to link my posts together to create a better context, deleting a huge number of posts will create gaps! And there is no way to tell blogger the posts were deleted, I had to take care of those manually, one by one! With the help of a little tool of course! This tool helped me search for dead links and locate them exactly inside the blog, some of it was from the old domain but mostly it was deleted posts (and a very few links that expired ad needed to be removed).
I've figured out why some of my posts have awkward spaces in them while I didn't do that, I might post about that, it depends on readers mainly..
Sometimes, doing nothing fixes stuff, if you wait long enough, some issues will resolve themselves (I'm talking about blogging, if you have problems work on them!).
Blogger has changed the sitemap limit, only allowing 150 posts to be submitted, even with the massive downsizing I did, I was still way above the limit, luckily I found a way to add more sitemaps to fetch all my posts, which happens to be very easy to use, checkout the sitemap tool from here.
And YES! I believe that adding a sitemap is important for blog growth, despite the claims that Google sitemaps sites automatically, I find that very hard to believe.
Brand growth
It's no secret that I use Twitter for promoting my content, and I am pleased with the results, if anyone is interested I'll make a post (or a series of posts) on how to develop a strategy to promote your blog content and twitter account side by side.
It's worth mentioning that my twitter followers exceeded 16,000 followers!
The blog grew a great deal in comparison with the same time last year, that's great! If I could seduce the readers to comment? That would be super too! (Come to the comments section, we have cookies).
Blog look and feel
I finally settled with a look for my blog, I like this template, and I hope you do too, because it's going to stick around for a while!
It's clean and responsive, so far this is the closest template to my vision of a personal blog, unless if you have a better thing to offer, I'm always down for an awesome template (in almost 4 years of blogging no one has suggested me such a thing).
I think it's time to settle down with one look for the blog, don't you agree?
Final words..
Change is never easy, and for some it could be harder than ever. This last month was a wild roller coaster ride of changes and challenges, and I'm glad to say I've concurred them all, it's really down to how you adapt to the changes and challenges in your life and make the best of them!
Till the next major milestone.
Have a nice day, and do tell me what do you think of this post?