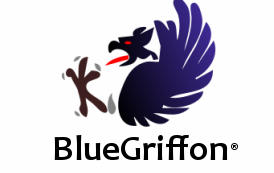 Four months of hard work and fixing bugs have brought us to this highly anticipated release of BlueGriffon 2.0
I have posted about the Alpha and gave it a review and been following the development closely on Twitter, the beta release was just two days before the official release, so it was nearly impossible for me to download, test and finally post about it. Let's take a look at BlueGriffon 2.0
An introduction
BluegGriffon is  a product of Disruptive Innovations SAS, a French software company founded in October 2003. Based in Saint-Germain en Laye, France, Disruptive Innovations SAS delivered in the past premium products like the popular editor Nvu (the indirect predecessor of BlueGriffon).
A total overhaul
This version is a total overhaul for the program, as it changes the addins system and even the licensing platform!
All the add-ons from the previous versions won't be compatible with this one so you need to download the new ones.
There are features that are only available for those who purchase a license, BlueGriffon is still open source and the basic features
can be used freely.
The manual is also up for purchase, this is in order to support the development of BlueGriffon as it says on the website (the manual isn't open source and can't be distributed freely).
It will only support Windows 7 and higher, Mac OSX 10.8 and up, and the only Linux distribution supported is Ubuntu.
The overhaul included the BlueGriffon site, and yes! It was designed using
BlueGriffon! It matches the interface and looks fantastic!
Interface
It brings the darker theme that was first shown in the alpha version, complete with all functions and menus.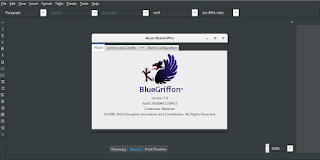 It feels smoother and lighter,
image management is much better than version 1.8 and same goes for tables.
I do miss the function buttons
as now I have to do everything by menus!
any random shutdowns of BlueGriffon so far.

Download 
BlueGriffon is cross platform and is available to download for:
Windows (Windows 7 and above). And a ZIP file is available too.
Click on any of the links to start downloading from the official server.
Languages supported
English (USA), Čeština, Deutsch, Español (Castellano), Suomi, Français (France), Galego,
,
日本語
한국어
中文
),
繁體字
), Magyar, српски.
Here you can download the available dictionaries for these languages.
Final words
A version 2.1 is in the works and the developer is taking note of some fan suggestions like: a hide-able dock and a clear theme, I'm really impressed with the comeback BlueGriffon has made, as I said before it was marked as discontinued by alternativeto.net, it's really good to have a frequently developed open source HTML editor available! I as a blogger can't keep up with how fast this application is being developed! And that doesn't happen often!
Update on 06/08/2016
Version 2.1 is out and you can check the change list from here!
P.S: The site is inaccessible at times, I couldn't download it so far, and it wasn't packed as .deb (  I suggested that several times without hearing back from them).
They aren't very responsive to e-mails, I've been writing to them since the BlueGriffon was frozen at 1.7.2 back in 2013 and they haven't replied to me once! Even on Twitter I never got to hear back from them, seriously? How hard is it to send a tweet?
Update on 06/12/2016
Version 2.1.2 is out and FINALLY it's packed as a .DEB
You can thank me later! 😉
Download
I hope you like this post, please give me your thoughts in the comments section below, will you download BlueGriffon? And if you did, what do you think?
Have a nice day!