It was three months ago when I got an e-mail from
Mrs. Angelika Gutsche
saying that she wanted to translate a post from my blog to German and post it on her blog.
I was both flattered by the request, and felt a tad bit skeptic! Why would a German blogger be interested in Libya? She seems to know so much about whats going on!
That question is a question that many of my followers and blog readers have been asking for a while now, and in this post I'm going to answer two questions:
Who is Mrs. Angelika? And why is she interested in Libya?
First of all: Who is Mrs. Angelika Gutsche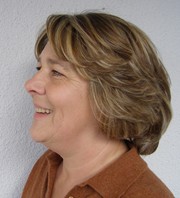 Mrs. Angelika is a true Jill of all trades! She studied psychology at the University of Munich and worked as a program coordinator at the Goethe Institute for several years, before embracing a lifestyle of world travel with her husband.
She also enjoys art, history, cooking Mediterranean cuisine, reading, and translating -whenever she finds time in her busy schedule.
Which takes us to the next question: Why is she interested in Libya so much!
During her trips across the world she visited Libya several times and fell in love with it! So the news of the 2011 civil war were shocking to her, and what was even more shocking was how the western media covered the news coming out of Libya, saying it was: "filled with horrible things about Libya and Libyan politics".
So she decided to do her own research into the Libyan struggle, and in April of 2011 she started her own blog to cover the news from Libya and help show the real image of Libya to German readers.
Feel free to visit her blog and see the wonderful work she has been doing now for over 6 years, writing about Libya and showing the world what is going on in our country.
She has nothing but good intentions and wishes for the safety and prosperity of Libya. These intentions transcended across the world and could be felt by anyone who read her words and saw her passion for Libya.
Hopefully this post satisfied your curiosity about Mrs. Angelika, please leave your comments and questions below as she will be reading those too, so be nice!