Hey there you guys!
How are you today? I hope you are doing good!
Today we are looking at an awesome task list app. Tasque.
Tasque is a little to-do list that gets the job done. What I like about it is that it's simple and minimalist. No unneeded features. Just the pure simple core of getting tasks done.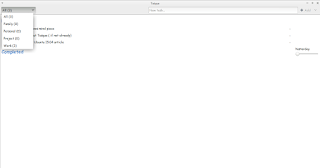 According to Wikipedia the name was partially inspired by the French village by the same spelling. "Tasque" in French is pronounced the same as the word "task" is in English
It's available from the Ubuntu software center, or via this link as a tar archive. And it can be downloaded for Windows too! Latest stable version is 0.1.12
Reception
It has the rating of 3.5 stars on the Ubuntu software center. True shame. I believe it deserves a 5 star rating. Please up vote it.
How did you like this post? Did you find it useful? Please comment below and let me hear what you have in mind.
Have a nice day. Please give kudos. Share this post and leave a comment!