Hey there you guys. I hope you are doing well on this fine day
Atom celebrated it's first year as an open source on the 6th of May by releasing an info-graphic. It contains facts and numbers that are truly interesting!!

Interesting facts
I never would have guessed that most Atom users were Mac users! Or that it has been downloaded 750.000 times!! for full info click this post over here.
Great read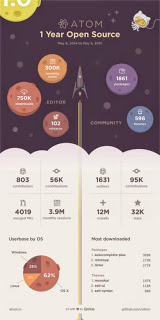 As I was browsing the Atom blog I came across this rather interesting announcement: That the support for deprecated API's will end on June 1st.
(Sounds really exciting huh? No! Not really!) but the other part of the announcement is what really matters. Announcing that V1.0 milestone will be released sometime later that month (June).
Atom v1.0 will be released in June. That's according to the official atom blog.
Future hopes
I'm hoping that update brings the removal of the file size restriction. Which has been a real drawback for Atom. I'm also expecting some under the hood improvements. I hope they work the Arabic language problem (it's shown as scrabble). And maybe the icon. I don't like it very much :p. Other than that I'm quite happy with the program's features and performance (on Linux! Of course) Windows boot is almost as long as the Windows boot itself!!
Promised bug fixes
They have published a list of bug fixes to include in the 1.0 milestone. Some of them as you might have guessed were boot time and file size restriction. The rest can be checked from here.
Let's see if the Atom team can pull it together. I wasn't in favor of comparing them to industry titans as I kept saying it's in Beta. But now the play time is over!
Final words
I really wish them the best. As they put together what could impact the coding world!
What do you expect out of V1.0 of Atom? Are you excited as I am? Please let me know in the comments section below. Don't forget to give Kudos. Share this post and help the blog grow! Have a lovely day 😀