Hey there you guys. How are you keeping? I hope you are doing good!
I have an update to report!
And it's regarding Windows 10!
I will be posting a special coverage about Windows 10 until the release date. Then some  hands on reviews..
I know it's super late. And I admit that I only open Windows to defrag every Wednesday and to backup my Android phone 😛
And due to very slowInternet I couldn't update my system for about a month or so. I managed to update it recently. And that's where I came across this beauty! (This icon is legit! Not a virus or whatever!).

My heart was racing! I know I had nothing nice to say about Windows 10. But getting it for free was worth the excitement I had! After all Windows hold nearly 90% of the personal computer market share and Windows 10 is supposed to be that 90% !!
When I clicked the white icon this is what popped up!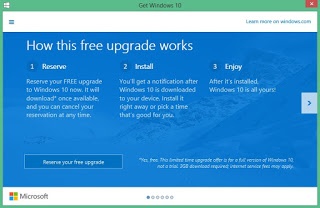 From here I was supposed to "Reserve" my license for the time to install. Meaning that 3 Gigabytes will be downloaded from the Internet to my device for the upgrade to complete. ( Will be breaking this pop-up in detail in following posts!)
I felt like a bucket of cold water was poured on me! With such poor Internet and often power cuts, how am I supposed to download the update? It took me 2 days to download the 8.1 upgrade!!
That's for me to figure out and for you to find out later. As the update is supposed to install on the release date of Windows 10.
Did you get this icon / pop-up? If you did let me know in the comments section below.
And if you didn't, don't be frustrated! Just wait for my next post 😉
Have a nice day!!