I had my initial doubts about Microsoft giving out
Windows 10
for free. Everyday I am convinced that my worries were sound! And it was much worse sadly!
For these reasons I am regretting the Windows 10 upgrade offer
I wrote this post prior to my upgrading, some of these fears aren't exactly true (or proven wrong) but still they sound pretty reasonable don't they?
Here are 10 reasons to skip the Windows 10 free update that expires July 29th.
1. Too good to be true
How will Microsoft make money if it gave the system for free plus free updates? That's doesn't seem too profitable! Two years to get you hooked then bang!! 100$ per year..
2. Windows 8.1 is working fine!
Unless they change something or decide to kill it prematurely, it should be running smooth for eight more years (extended support officially ends in 2023). As the old saying goes: "If it's not broken, don't fix it".
3. Windows 8 wasn't free!
Yeah! It cost a lot of money! Plus the upgrade from Windows 8 and changing the license. All of that is money, then they wanna charge per year?
4. The upgrade will cost a lot
Data charges will apply, plus the amount of time to download and the down time I will be out of service to get it to run. let alone the fee I have to pay yearly after a while of service.
Update: This part is written after rolling back. Downloading Windows 10 + Updates + Downloading Windows 8.1 + Updates. That's over 10 Gigabytes of data. All of which I paid for!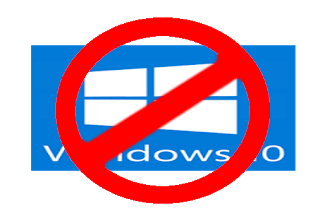 5. Cloud based / Internet based
My internet connection is really bad. I can't afford to have all my data in the cloud! (same reason why I can't download the upgrade with ease) I am not sure how will Windows as a service will affect my productivity or my daily flow, so I have to be careful.
6. Security concerns
Microsoft is collecting data to improve the system and is constantly improving it. Does that mean they constantly collect my data? Not feeling to good about that.
7.compatibility issues
Spite of all the promises Microsoft makes. I fear that something would go terribly wrong with the drivers and solving it would take months.. I can't afford that simply.. What if it doesn't support executor? That was my main concern coming from Windows 7!!
(Everything worked fine).
8. Is Windows 10 really all that?
I used 8.1 for a while now, it's not that bad! Its good enough for my needs, what does Windows 10 bring more? Support for hardware I don't own, and many services I don't use. Even the whole start menu hype isn't making me jump with joy (I never used it any way) I use executor for much of my daily work combined with Rocket Dock.
If it's just the look there are transformation packs out there I can use to get the look and feel of Windows 10.
This part is written after rolling back. Windows 10 did nothing new to me, same old story, I still have my old hardware so it was nothing. Windows 8.2 for real!
9. License is tied to the device
I am upgrading from my old dusty laptop, trading a Windows 8.1 license for a Windows 10. Windows 10 is tied to my device ( the rusty old laptop) so if anything happens to my laptop, it's over! I can't transfer the license to a new computer (like I did in the dual boot saga) which means: New laptop, new Windows 10 license! -Unconfirmed worry!
This part is written after rolling back. I managed to remove Windows 10 and reinstall Windows 8.1 without a hitch!
10. No turning back!
If you upgrade to Windows 10 and stay there for a month, you lose the right to roll back to Windows 8.1 or Windows 7. So please take your time to think this over. (actually were were screwed long before that!).
: This part is written after rolling back.
In the end it's a personal choice, it does not have to affect your needs or desire to upgrade, you have a whole year to upgrade, so think it through. I will try to get an eCommerce mean soon ?
If you are convinced that Windows 10 isn't for you and you would like to go back, here is how!
In the mean time, have a good time and enjoy working on whatever system you choose.