Those were really busy days. But this step comes as the final step. Finally I can upgrade to Windows 8.1 from the store to get this over with. I'll have the latest update in both Linux and Windows. If you followed the saga you would know that none of this came easily!!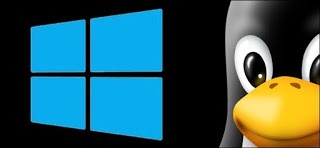 For those who just joined us. I decided to install Windows 8 pro on my computer side by side with Xubuntu 14.04.
I installed Windows 8 and activated it. Then repaired the boot issue where Xubuntu was overlooked in favor of Windows 8 pro, then it was a true odyssey trying to transfer the license to my computer.
Now we come to the finally step, installing 8.1
Microsoft provided the 8.1 upgrade for 8.0 users via the Windows store. You can upgrade your system for free (not sure if there is a time constrain).
I decided to make use of that offer that our ISP provided (free download from 2 AM till 10 AM for a few months) to download Windows 8.1 and install it.
t took me two days to download 3GB from the Windows store! (The download was resume-able). And after the download was complete the installation began!
Important note:  You need to update Windows 8 before installing Windows 8.1 The update size is over 1.2 GB, and that includes optional updates as well!!
It was really easy and didn't take much time either! In a few moments I had the system up and running with no problem at all! You can see the tutorial Microsoft provided from here and for the more visual oriented readers here is a video:
What happens to Windows 8 after the update?
Some of the files remain in a
Windows
.old folder, it will be deleted within 28 days or you can delete it through disk clean up (I just clicked it and pressed Shift + Delete!!)
feel free to read more about Windows.old from here
This concludes the Dual Boot Saga. Please note that every computer is different and that you need to backup either way! Consult your local IT personnel or your OEM provider, this might void warranty so be careful!