CodeLobsterPHP Edition 5.9 is out finally, and comes with a ton of bug fixes and security features, this version is special to me because it includes my translation from Arabic to English. (ost is in Arabic).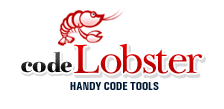 CodeLobster 5.9 comes with a number of bug fixes and features, I quoted these from the news section on the company's site:
Codelobster PHP Edition FREE Version 5.9 released!
New version has the following new abilities:
Drupal plug-in:
Now supports Drupal version 8.x
Symfony plug-in:
Now supports Symfony version 3.x
Phalcon plug-in:
Now supports Symfony version 2.x
Improved PHP help and tooltips
Autocomplete for PHP functions that return mixed values
Improved Node.js autocomplete
Debuger for PHP version 7.x
Arabic interface has been added (Translated by Muaad Elsharif).
Bugs fixed:
For more information visit the website. I've made a blog post with a fully detailed review which you can find on this link.