This could be the last update I provide before reaching my 100,000 views milestone which
I have been building towards
for years now!
To begin my update properly, I have to thank the fans from around the world (mostly Libya) for showing me their support and standing behind me, it really makes my day even if you think it doesn't!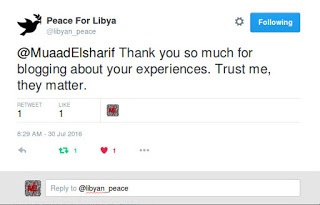 Just an example of positive feedback I'm getting from fans
Following up on my latest post (unplanned downtime) I began to look into second device options (still don't know exactly what to get, any help?), and reading this article changed my views about my work flow completely, a must read if you are stuck in a third world country that's struggling, funny thing about that post is that it relates to two of my posts, unplanned downtime and blogging from a civil war zone, so think of it as a survival guide in a country going down the tube, there is an Arabic version too if you like.
I finally finished creating my Facebook page, it took so long because I maxed out on friends and then turned my profile into a page (yes you can do that!). Despite my opinion against Facebook, I have to admit it's my biggest visitor source, I can't just let that go to waste without building on it, can I?
Here is the link to the page.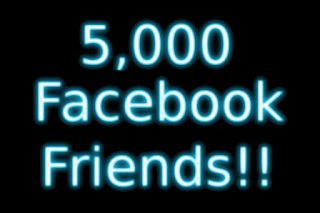 Hey! I have 5,000 friends 😀
I've started blogging on other sites too, lately I've posted on Itwadi and the feedback was rather positive, the post is in Arabic, expect to see my posts in other blogs very soon! I even started a section on my blog to collect all my guest posts in one place! It has only one post, but it's going to change very soon god willing!

My fan feedback is very important to me, I wanted to what kind of posts you would find interesting. The poll was on the blog home page for 2 weeks, and not a single vote was casted! Luckily I put the same poll on Twitter and got some feed back I could use, the result was: 40% in favor of technical posts,
40% for Libyan affairs, and 20% for Diaries. No clear edge here, but I'll try my best to give the fans what they want, and maybe to try on vlogging for a change.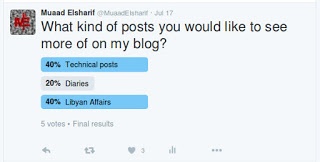 Twitter poll results

I created a new youtube channel, I'm yet to add a proper user name to it, I need to get 100 subscribers first, subscribe please 😀
I will post my 100,000 video on it once I make it and reach 100K, I'm still wondering whether to make an Arabic video with English subtitles or vice-versa, as it turns out Youtube doesn't allow multiple audio sources on one video, and I'm not open to the idea of posting two videos (when the idea was pitched my fan base was mostly English speaking, my blog caught the Libyan attention after the passport post series, and still does) uploading on video will be painful enough!

Isn't that a nice page view number?
Thank you for reading this rather detailed update, please tell me what you think in the comments section below, and share the post with your people using the social media buttons 🙂