To end this series on my blog, I choose Gnome as interface, and went through some steps and issues to make it work properly. Now these are some notes and changes I made.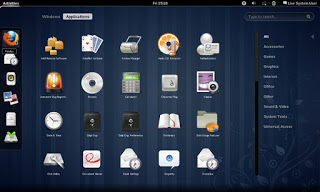 Gnome interface

I tried to use native apps as much as I could, with some exceptions of course!
That meant dropping Docky and Kupfer for the sake of the native launchers in Gnome.
I also merged the use of some apps and discarded some others to save space and for the sake of minimalism:
I added a clipboard extension manager and dropped Diodin.
Added a weather widget because it seemed convenient!
Merged the note keeping with the journal, that means rednotebook took the boot (Which really is really sad to me, but I need to move on!).
Had to replace RSSowl which I used for over 4 years on daily basis for QuiteRss to save space.
Uget replaced XDM downloader, that's until FDM lands on Ubuntu!
I replaced Ubuntu tweak with Bleachbit.
Gnome Clocks , and pompodro timer does what Instant boss does exactly! Totally proved it's worth as a timer app with great functionality!
uGet is better than XDM in terms of interface and development, as for video download the feature is missing some features like grabbing the name, so having Clipgrab is a good idea.
Gedit is by far the best editor I've seen in a very long time!! Better than atom and sublime (let's not forget it's native with Gnome).
I'm using Evolution for e-mail and calendar (task management), in place of the great (and huge) Thunderbird, and Tasque.
There were some native apps that I had to replace
Nothing is better than VLC to display media and stream, period!
Tomboy isn't the best personal wiki, and it still can't import and export notes properly, so my verdict with Zim desktop wiki stands! I found some bigtemp files in the /Root/Desktop folder (had to access as root to clean them), which won me back 4GB of free space! Here is a fair warning: If you are using Ubuntu 14.04, then the latest supported version of Gnome is 3.12.2 and don't ever EVER try to update it, you will windup with a system that won't boot. Also, don't try it on Unity, it won't work no matter what you try.
If you like the Gnome interface and would like to have the latest version, consider downloading distros that use it like Fedora or OpenSuse, if you want Ubuntu, there is a flavor called UbuntuGnome which supports the interface natively.