A download manager is a must have tool for any computer user, and there are many options to choose from, my favorite is
FDM
that only exists on Windows (was recently ported to Mac and soon to Ubuntu). But until FDM is available for Ubuntu, let's take a look at another popular option, that's uGet, I
chose it over the rest of the bunch for many reasons.



Uget is a light weight fully featured download manager available for many operating systems, Linux (Arch, Debian, elementary OS, Fedora, Gentoo, Linux Mint, Mageia, openSUSE, Semplice, Slackware Sparky, Ubuntu), Windows (XP – 10), BSD, Mac OSX And Android.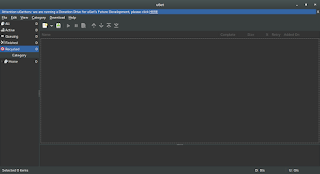 Uget is free and open source and available in 29 languages. It has many features like: Mutil mirrors, Pause/Resume, Speed Limits, Clipboard Monitor, and many other features you can check from here.

Despite being a powerful downloader, Uget is very light weight, here I quote from the feature page as it goes: "Uget is a VERY Powerful download manager application with a large inventory of features but is still very light-weight and low on resources, so don't let the impressive list of features scare you into thinking that it "might be too powerful" because remember power is good and lightweight power is Uget!".
Download
Visit the
download page
and click on your operating system to get specific instructions on download and install.
I recommend using this download manager with Ubuntu, it's a good one!
Did you like this post? Would you consider downloading uGet? Let me know wha you think in the comments section below.