I blogged about
Docky
a few years ago when I moved to Ubuntu from Windows as I needed something to replace
Nexus dock
, and later
RocketDock
, and I added it to a post about the
best docks for Linux and Windows
.
Introduction
Docky is the dock to go to when using Ubuntu, it's fast and it's light, not to mention it's free, it has two branches for development which I find to be a bit confusing!
One of the branches is stable but lacks features, and the other crashes often but is full with features.
What if there was a dock that had the best of both branches? Stable and fully featured? Meet Plank everyone!



Plank
Plank is a fork of Docky that is shipped by default with the popular operating system Linux Elementary. It is based on Docky 3.0.0 according to the Plank wiki, and it's aimed to be the simplest dock available, to preform what a dock is supposed to do, and I couldn't agree more!
How to install Plank?
In a terminal window enter these commands one by one to install Plank, and after it's done you can find it by searching the name in any interface you use.
sudo add-apt-repository ppa:ricotz/docky # <- is not a typo
sudo apt-get update
sudo apt-get install plank
Configuring Plank
By right clicking an empty place in the dock you can summon the preferences of Plank, but that proves to be a little difficult, so by typing the command: plank –preferences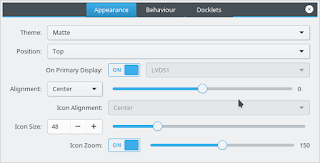 to adjust and fine tune the settings of Plank.
How to add executables as shortcuts to plank?
If you are using plank on Ubuntu you know that you can't add executable files right to the doc, you need to add the icon to the program directory and then add the icon to the dock, here is a really simple way to do it from here.
My verdict
It's the best dock I used so far, so light and does exactly what it should, without having to choose between two branches and having to roll back packages.
What do you use on your system? Are you considering Plank? Share your thoughts in the comments section below, and don't forget to share the post on social media 🙂